BNT Air-conditioning Systems LLC was established in the year 2006 as an Air-conditioning Contracting Co. that deals with all kinds of Air-Conditioning Installation & Maintenance Projects in UAE.
In order to cater the huge demands of HVAC Industry in UAE and as part of diversification the company has expanded its operations into the field of Air-Conditioning & Refrigeration Trading.
Over a short span of time BNT Air-conditioning Systems LLC had achieved renowned name in the industry by representing well-known brands that includes HENRY TECHNOLOGIES UK, SIEMENS, ICM CONTROLS USA, LAU USA, HUNTER GERMANY, CAPCO CAPACITORS INDIA, NUMAX CONTROLS etc. In addition we also represent all kinds of Air-Conditioning & Refrigeration products to serve our customers in its fullest.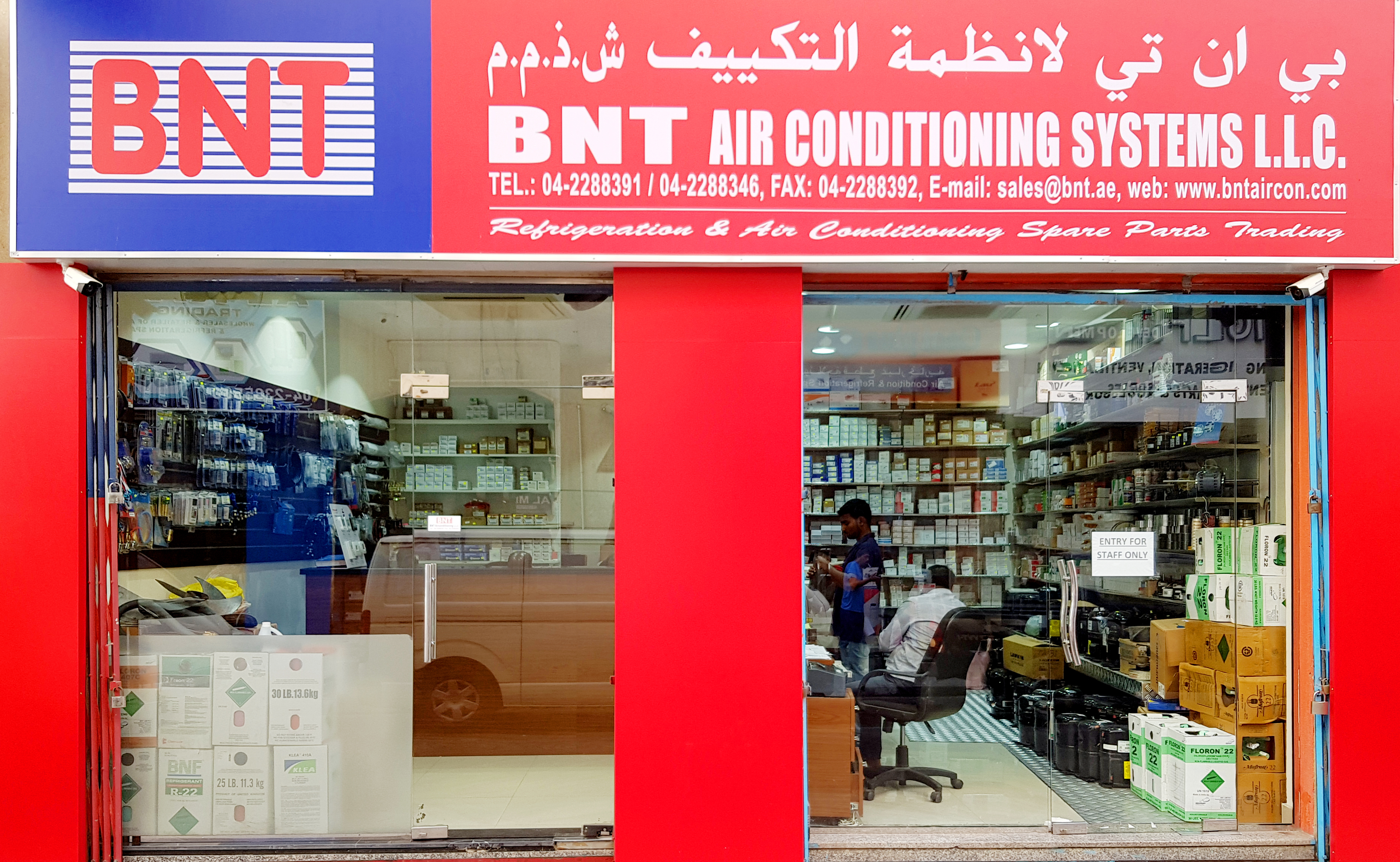 BNT Air-conditioning Systems LLC takes its own pride in being able to offer products of superior quality and performance at best competitive price & prompt Delivery. The Company has maintained good Infrastructure facilities that includes two Showrooms in Dubai & one Showroom in Sharjah with warehouse facilities in Al Qusais & Deira which helps to keep large inventory of complete range of specialized tools, Air-Conditioning & Refrigeration parts & Equipments for the industry to meet the demands of new Projects and Maintenance services. The Company also has a team of dedicated & professional staffs that helps to provide fast & effective service to our valued customers. We are dedicated to provide the best quality products and services based on deep- rooted commitment to merit our customer's business and goodwill.
To be a market leader in providing internationally recognized quality, safe, reliable, and energy efficient products and solutions for the HVAC, Water, Building services / marine / professionals in HVAC design Installation & maintenance dealing in Refrigeration & Air conditioning spare parts . Achieved through a continuous journey of product development and Innovation in parallel with establishing long term business cooperation with our global partner suppliers.
We are very proactive in the marketplace with a regular presence at relevant exhibitions and conferences throughout the region and engage a continuously evolving marketing strategy for all BNT products. Our Sales teams are recognized within the marketplace as being of a very high standard of technical knowledge that is enhanced by continuous updates on product training. The ethos of our selling model is to win business through technical excellence and not commercial.
A dedicated team of engineers is devoted to do an assessment of the proposed design by the consultant, utmost care is taken to analyze the requirement of the system, and then respectively considering the technical and commercial advantages for both the Client and the contractor.
QUALITY POLICY AND POST SALES SERVICE
We make sure that the end user receives products of the highest quality and thus helps in building up the reliability of the customer. A post sales service team makes sure that the customers are always happy and satisfied with our products and hence if needed then a post sales service is actuated for the issues raised by our customers. Always having the motto of "customer satisfaction" as our prime perspective of business.